Make "Dad's Meatloaf" and a "Maple Manhattan" from The Lost Kitchen by Erin French, author of the new memoir Finding Freedom.
Dad's Meatloaf
When I was away at college, this is the dish I craved the most. It is my dad's recipe, one that he taught me how to make in the diner. I put my own spin on it and frequently treat myself to this on chilly nights with a baked potato and sour cream—or, for this more refined version, a bed of magenta slaw or a silky parsnip puree.
SERVES 8
FOR THE MEATLOAF
1½ pounds ground beef
1½ pounds ground pork
¾ cup shredded carrot
½ cup chopped shallots
½ cup shredded pecorino
2 cups ½-inch bread cubes, such as crusty sourdough
2 tablespoons fresh thyme leaves
2 large eggs
½ cup whole milk
2 teaspoons salt
6 to 8 twists of pepper
FOR THE GLAZE
½ cup packed light brown sugar
¾ cup ketchup 1 tablespoon Dijon mustard
Preheat the oven to 375°F.
START THE MEATLOAF: Combine all of the meatloaf ingredients in a large bowl and use your hands to mix them until just evenly combined. Do not overmix. Divide the mixture between two 9 × 5-inch loaf pans.
MAKE THE GLAZE: In a medium bowl, stir together all of the ingredients.
Brush the top of each meatloaf with a thick coat of the glaze. Transfer to the oven and bake until an instant-read thermometer reads 150°F, 45 minutes. Let the meatloaf rest for 10 to 15 minutes, then unmold, cut into slices, and serve.
---
Maple Manhattan
MAKES 1 COCKTAIL
2 ounces rye whiskey
½ ounce sweet vermouth
½ ounce maple syrup
2 dashes of Angostura bitters
Ice
Maraschino cherry, for garnish (or liquor-soaked fresh cherries, if you can find them)
Combine the whiskey, vermouth, maple syrup, and bitters in a cocktail shaker filled with ice. Shake for 30 seconds and strain into a chilled martini glass. Garnish with a cherry.
Reprinted from The Lost Kitchen. Copyright 2017 by Erin French. Photos by Nicole Franzen. Published by Clarkson Potter, an imprint of Random House.
---
The Lost Kitchen: Recipes and a Good Life Found in Freedom, Maine: A Cookbook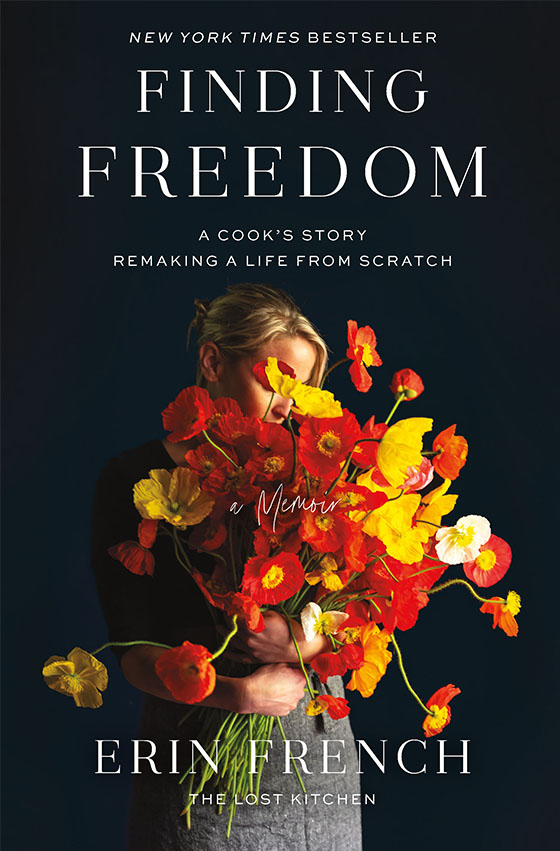 Finding Freedom: A Cook's Story; Remaking a Life from Scratch