When Pride and Prejudice was first published in 1813, the book sold well but received mixed reviews. Jane Austen was still far from becoming the beloved icon she is today. In fact, the only author credit on the book read "by the author of Sense and Sensibility." Within a century, however, Pride and Prejudice had become a classic. Scholars and readers alike revived interest in Austen's entire body of work, and her spot in the Western canon of literature was fixed.
Authors continue to be inspired by her novels—the number of Pride and Prejudice-inspired stories is remarkable, the most notable being Bridget Jones's Diary. Let's dive into these books, all of which name Austen and her characters as their muse.
Books Inspired by Pride and Prejudice
Mr. Darcy's Diary by Amanda Grange
Pride and Prejudice fans are often frustrated by the behaviors of Fitzwilliam Darcy. He's extremely wealthy, quite stubborn, and perplexes Elizabeth Bennet throughout the book. That's why it's such a treat to hear Mr. Darcy's point of view. Grange gives Austen lovers the gift of understanding–from the missing pieces of Elizabeth and Darcy's courtship to the true measure of his happiness with their marriage.
Pride by Ibi Zoboi
The rapidly gentrifying Bushwick, Brooklyn, is about as far from Austen's British Regency period as you can get, yet the same themes emerge—status, class, and the assumptions we attach to them. In Pride, Zuri Benitez is furious about the wealthy Darcy family moving in across the street, a symbol of how quickly her neighborhood and her life is changing. Imagine her surprise when one of the Darcy sons works his way into her life…and she lets him.
Austenland by Shannon Hale
For die-hard Mr. Darcy fans, nothing could be more thrilling than a visit to Austenland. Maybe it's the authentic Regency-era gowns, or the etiquette lessons, or the very real invitation to a proper ball. For Jane Hayes, this is the trip of a lifetime, and the idea of meeting her own Darcy is almost too much excitement to bear–even if he is just a period actor.
Longbourn by Jo Baker
On the grounds of extravagant family estates or in whispered conversations on a ballroom dance floor, Austen famously detailed the lives and attitudes of her characters. While we get to know both the comfortably well-off and the extremely wealthy, what we don't see is what happens downstairs…until now. Baker deepens our experience with Pride and Prejudice by giving voice to the struggles and triumphs of the many servants and staff at the Darcy home in Longbourn.
Death Comes to Pemberley by P.D. James
This is what happens when a masterful mystery writer imagines how the Darcys would handle a murder at their estate. Elizabeth and Fitzwilliam have built a happy family life at Pemberley and are preparing for the Autumn ball when Captain Denny is inexplicably murdered. Can the Darcys find the killer?
Books Inspired by Jane Austen's Life
The Lost Memoirs of Jane Austen by Syrie James
As with most of James' Austen-inspired novels, this one starts with a "what if…". What if Austen left behind a memoir that explains her deep understanding of the ups and downs of love? Forgotten in a dusty attic, Austen's memoirs reveal a love affair of her own with a charming intellectual who encourages her to finish Sense and Sensibility, thus starting her fabled career. Austenites will love this richly imagined origin story.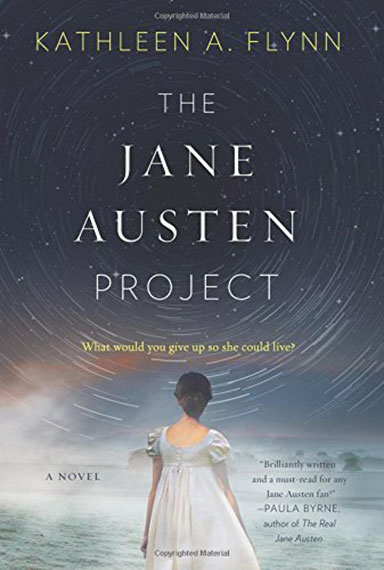 The Jane Austen Project by Kathleen A. Flynn
Here's a science-fiction Austen adventure you won't want to miss. Rachel and Liam have arrived in 1815 England from the future looking for Jane Austen. Their singular mission: steal an unpublished Austen novel that was rumored to exist. Of course, to do this, they have to meet and befriend Austen, and that's when everything gets complicated. As Rachel and Jane become friends­–and the illness that eventually takes Austen's life is diagnosed–it becomes more difficult for our time-traveling scholars to leave the past unchanged.
Jane Austen Ruined My Life by Beth Pattillo
Emma Grant, an English professor, learns the hard way that happily-ever-after doesn't happen overnight. When her marriage and her career both implode, a trip to England to study Jane Austen's private letters sounds like just the diversion she needs. Equally comforting is her best friend, Adam, who she reconnects with in this idyllic setting. With Austen's sage advice to guide her, Emma has a chance to redefine what it means to be happy and successful.
Other Austen-Inspired Novels
Northanger Abbey by Val McDermid
Austen's gothic romance satire stands out among her other novels, so we love the idea of bringing it into the 21st century. In McDermid's version, Cat Morland is a naïve homeschooled teenager with a head full of vampire fantasies. Her new friends, Henry and Eleanor Tilney, invite her to the sprawling Northanger Abbey, and it's everything Cat's overactive imagination could hope for. She's hoping for a mystery, but if she can keep her head, reality will make her so much happier.
Emma: A Modern Retelling by Alexander McCall Smith
Smith's Emma is every bit the impetuous know-it-all that she is in Austen's novel. Here, she has returned home to Highbury from university, eager to start her own design business, while she plays matchmaker in her spare time. The familiar cast of characters have also returned to Highbury, and with a bit of struggle and good luck, Emma will grow wise and find true love at last.