A preview of Sally Rooney's new novel, Angie Thomas's latest, and a true crime classic takes us to 1980s Savannah.
By the Celadon Team
Normal People by Sally Rooney
I was hooked from page one as I read this story of two unlikely friends, a boy who befriends an odd, smart girl who lacks his social ease and popularity. Over the years, tables are turned and their lives are changed, but their friendship endures and somehow keeps each afloat. I loved the two main characters, and this unusual, surprisingly moving story of friendship. Fans of Rooney's first novel Conversations with Friends will also like this new one. I liked it much more than the first. I read this at the recommendation of an independent bookseller, which shows you the power of word of mouth. While it is out in the United Kingdom, this book doesn't publish in the United States until April.
New and Selected Poems by Mary Oliver
I was so saddened by the news of the poet's death last month that I pulled this collection from my bookcase and spent some time with her wise, lovely poems. I've always found her poems very accessible, and her poems about nature and beauty speak to me now more than ever, as nature becomes increasingly important to me as I grow older.
Randi Kramer
Editorial Assistant
The Night Circus by Erin Morgenstern
I love listening to audiobooks on my commute, and multiple friends told me that The Night Circus by Erin Morgenstern is a great listen. It's narrated by the beloved Jim Dale, who also read the audiobooks for the Harry Potter series. Fans of the young adult series Caraval or Water for Elephants will enjoy this one!
Where the Crawdads Sing by Delia Owens
I've been seeing Where the Crawdads Sing everywhere, and have been hearing great things. A friend who I love to trade books with recommended it, and I trust her judgment! It was Reese Witherspoon's book pick for September, so this book has been getting a lot of buzz. If you enjoyed Educated or are fans of Barbara Kingsolver and Karen Russell I think you'll like this one! Make sure to pick it up and enjoy it for Reese.
Cecily Van Buren-Freedman
Editorial Assistant
The Water Cure by Sophie Mackintosh
I love dystopian and post-apocalyptic fiction that also includes social commentary, and this novel fits the bill! Longlisted for the 2018 Man Booker Prize, The Water Cure tells the unsettling story of three sisters who are isolated on an island by their parents in order to escape a plague carried by men on the mainland. Exploring dynamics of power, abuse, family, and safety, this novel is told through wonderfully unreliable narration that calls into question the very roots of this family's isolation.
Midnight in the Garden of Good and Evil by John Berendt
I've been on a narrative nonfiction kick recently, and this one is a classic of the genre. The book follows the murder of a male prostitute in Savannah, GA in the 1980s and its aftermath, while building an atmospheric portrait of local life in the deep south during the era. Like In Cold Blood, this book pushed the boundaries of nonfiction by bearing witness to history while prioritizing engrossing storytelling.
Alexis Neuville
Marketing & Publicity Assistant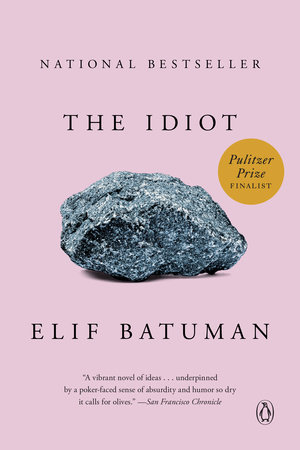 To be honest, the cover is what grabbed my attention, but the description drew me in even more. This book is written as stream of consciousness, which I really enjoyed. It was a 2018 Pulitzer Prize nominee for Fiction, so I saw it everywhere and seemed very thoughtful and relatable!
On the Come Up by Angie Thomas
I've been a fan of Angie Thomas since The Hate U Give; she's one of my favorite people to follow on Twitter because of her humor and wit about things going on in the world. Once I saw all the love On the Come Up was receiving, I knew I had to get my hands on a copy. It's about an up-and-coming female rapper and it's perfect for fans of hip-hop and rap music.