You don't need a hot day to work up a sweat. These new thriller books will have your heart racing from the first page.By Jessica Ferri
As students, summer reading was a drag. As adults, it's the best part of vacation season. Whether you're headed to the beach, the pool, or a staycation in your own living room, these page-turners will give you chills regardless of the temperature outside.
A Nearly Normal Family by M.T. Edvardsson
This novel is Swedish author Edvardsson's first book published in the United States. An eighteen-year-old girl named Stella stands accused of the murder of a thirty-two-year old "shady businessman." The community is perplexed, as Stella comes from a "good family" and seems to be "normal" by all accounts. But her upstanding pastor father and criminal defense attorney mother are about to be shaken to their core as they work to defend their daughter. Publishes June 25, 2019.
Tom and his son Jake hope that a move to a new home will give them a reprieve from their grief after Tom's wife dies suddenly. But when the disappearance of a young boy shares eerie similarities to the modus operandi of a serial killer known as "The Whisper Man," who devastated the town years ago, father and son find they aren't immune from the frenzy once Jake begins to hear whispers outside his window at night. Publishes August 20, 2019.
Do you take your thrillers with a healthy dose of SciFi? Look no further than Blake Crouch's Recursion, equal parts Black Mirror and Inception. The world is suffering from an epidemic of False Memory Syndrome, where people come down with false memories that eventually drive them insane. Scientist Helena Smith has developed a system for preserving precious memories, and cop Barry Sutton is determined to get to the bottom of this destructive, inexplicable force. Publishes June 11, 2019.
The Gone Dead by Chanelle Benz
Billie James's father died when she was just four years old. So, she assumed when she returns to his house thirty years later she'd learn a lot about the man and how he died. What she didn't expect was to discover that the day he died, Billie herself disappeared. In revisiting the events of the day, Billie finds she has a very personal and potentially dangerous mystery to solve. Publishes June 25, 2019.
The Paper Wasp by Lauren Acampora
There's been a lot of buzz about this debut novel, and its description on Amazon is enough to get your head spinning. The Paper Wasp seems to be about two female friends who reconnect through a creative institute after years of estrangement. One of the women, Abby, has a talent (or a curse) of telepathic dreams, and both women are hellbent on becoming successful artists, no matter the cost. Publishes June 11, 2019.
Fans of James Ellroy are in for a treat this summer with his gigantic new offering. Clocking in at a whopping 608 pages, complete with giant red swastika on the cover, This Storm takes place in Los Angeles in 1942. When rainstorms wash up a dead body, the police assume it's another "dead man job," but this crime is tied to the war raging in Europe. Ellroy's publishers are calling this book his "crowning work." If you love crime novels and historical fiction, this could be your perfect summer reading. Publishes June 4, 2019.
Song for the Unraveling of the World by Brian Evenson
If short fiction is your thing, these horror stories are sure to thrill. In one, "a newborn's face appears on the back of someone else's head," okay, nope. And, "a therapist begins, impossibly, to appear in a troubled patient's room at night." Hmm. If you are counting down the days until you can see Jordan Peele's new movie, Us, then Evenson's short stories are sure to give you a chill, despite sweltering temps. Publishes June 11, 2019.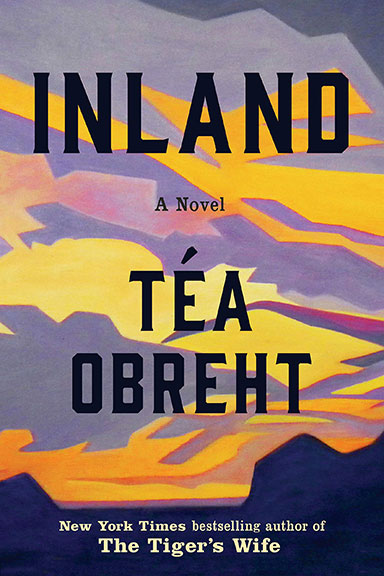 The highly anticipated follow-up to the best-selling The Tiger's Wife finally hits shelves this summer, and it's . . . a Western! It's Arizona, 1893. Nora finds herself guarding her house when her husband and two older sons vanish into the frontier and her youngest boy believes there's some kind of monster stalking them in the dark. As Nora struggles to maintain control over her household, she comes in contact with Lurie, "a former outlaw." Inland is sure to be the book everyone is talking about this summer. Publishes August 13, 2019.