These period dramas, featuring generations of families, are getting us ready for September 20, when the Crawley family finally appears on the big screen.
By Jessica Dukes
While we all wait for the Dowager Countess of Grantham's legendary side eye to grace the big screen, perhaps some of these sweeping family dramas will hold us over. These are the stories of titled old-money families, striving new-money families, and the people who surround their lives—servants and bosses alike. We love these characters for their common humanity—the emotional downfalls that no one can escape. And we love the societal drama, specifically the ways in which wealth protects some, while poverty makes life worse for others. 
Belgravia by Julian Fellowes
Yes, that Julian Fellowes, the creator of Downton Abbey. This juicy family drama is set in the trendy London neighborhood of Belgravia, where the Trenchard family is enjoying their hard-earned wealth. Mingling with old-money families comes with its own drama, but now a 25-year-old secret has been uncovered: A young man in the family is the result of a taboo relationship. His wealthy father fell in love with his commoner mother, but neither survived long enough to challenge society's rules as a family.  Will either of his grandparents claim him as their own, or is he destined to be an outcast?
Brideshead Revisited by Evelyn Waugh
Charles Ryder recalls his school-days friendship with Lord Sebastian Flyte and the years spent at the Flyte's lively Brideshead Castle. Amid alcoholism and religious differences, Charles and Sebastian drift apart, until years later, a chance encounter leads Charles to fall in love with Julia Flyte, the youngest sister. Originally subtitled "The Sacred & Profane Memories of Captain Charles Ryder," this novel is a study in the futility of trying to live up to society's standards.
Ann Veronica by H. G. Wells 
H. G. Wells is best known for his science fiction, but Ann Veronica is a standout. In fact, it was considered dangerous at the time of its release, thanks to its unapologetically feminist heroine. Ann could stay in her comfortable suburban life, but she wants more and is courageous enough to reach for it. She comes of age in London during the brief but impactful social upheaval of the Edwardian era. She takes a lover, studies Jiu-jitsu, and even gets arrested protesting with her feminist sisters—all defiant acts, and a testimony to the changing ideas of class and sex at the turn of the century.
Up at the Villa by W. Somerset Maugham
Mary Leonard is a wealthy young widow who has accepted an invitation to a relaxing weekend at a family friend's villa in Florence, Italy. A one-night stand goes horribly wrong, Mary is forced to confide in an old friend (who also wants to date her), and they cover up any evidence that could ruin her already uncertain life. While it's a story about taking chances, it's also about having the resources to make such choices.
The Netherwood Series by Jane Sanderson
In three books—Netherwood, Ravenscliffe, and Eden Falls—we follow the loves and losses of those who live in Netherwood Common. Lord Netherwood is a wealthy coal baron, who forms a partnership with Eve Williams, the wife of one of his employees, after a tragedy at the mine. As times change, the women of Netherwood Common become involved with the suffrage movement, while still striving to maintain a proper British home. Eventually, international politics begins to boil over into war, and Eve leaves for the tropics to help her brother open a hotel, worrying about everyone she leaves behind. As with Downton Abbey, the line between upstairs and downstairs is easily blurred.
The Remains of the Day by Kazuo Ishiguro 
For three decades, Stevens has been a faultless butler to Lord Darlington. Now that Darlington has passed away, Stevens has an opportunity to take a brief vacation. It's a working vacation—he's going to meet the woman who used to be a housekeeper at Darlington Hall in hopes of convincing her to return. Along the way, he questions whether his years of service have been worth it, especially since he gave up a chance at love with the woman he's on his way to meet.
Cold Comfort Farm by Stella Gibbons 
If the Crawleys had neighbors that they would never in a million years dare to visit, it would be the folks at Cold Comfort Farm. A parody of high-society drama, Cold Comfort Farm tells the story of Flora Poste, a recently orphaned socialite. With nowhere to turn, she visits her father's relatives on their rural "estate" only to find everything in total disarray. Flora decides at once to save them all—her relatives, the house, and even the animals—by teaching them a few lessons in modernity.
Howards End by E. M. Forster
The lives of three families–the wealthy Wilcoxes, the well-off Schlegels, and the destitute Basts– intertwine over the years. Howards End is the Wilcox country home, and the focal point of the drama. As marriages solidify, infidelities burn bright, and allegiances are formed, we watch members of each family grow into more realistic, often better, versions of themselves. Despite the complicated and painful moments they endure, they also find peace and redemption.
Buddenbrooks: The Decline of a Family by Thomas Mann 
This Nobel Prize-winning novel takes us deep into the wealthy bourgeois society of northern Germany in the last half of the 19th century. In four generations, we see a family slowly dividing. One group sticks to their traditions and their work as successful grain merchants, while other relatives are convinced that happiness and success lies in travel, the arts, and the liberal politics of the day. Indeed, the world changes faster than any of them can keep up, and a once-great family dissolves before our eyes.
The Forsyte Saga by John Galsworthy
In three novels, the Forsyte family works to cement their high status within the emerging new-money society of early 20th-century England. Soames Forsyte is an ambitious man who believes that success only comes through conquering others, whether in business or in choosing a wife. Not surprisingly, he fares well in business, but his first marriage ends in divorce. As generations of Forsytes are born, Soames marches on, creating wealth and seeking ever higher social connections by marrying his heirs to nobility. Ultimately, perhaps too late, he questions his own happiness.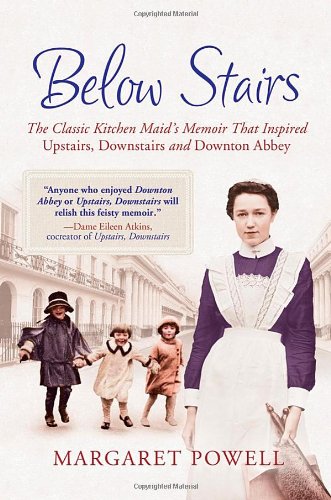 Below Stairs by Margaret Powell
This list would not be complete without mentioning Powell's blockbuster memoir that details her life in service for some of England's great houses in the early 20th century. Powell's story begins in 1920 with her first job as a kitchen maid and doesn't spare a single detail of life downstairs. The love affairs, the secrets, the rumors about life upstairs … it's all here. It's an important touchstone for understanding the class issues of the day, and is often credited with inspiring the drama we love so much in Downton Abbey.